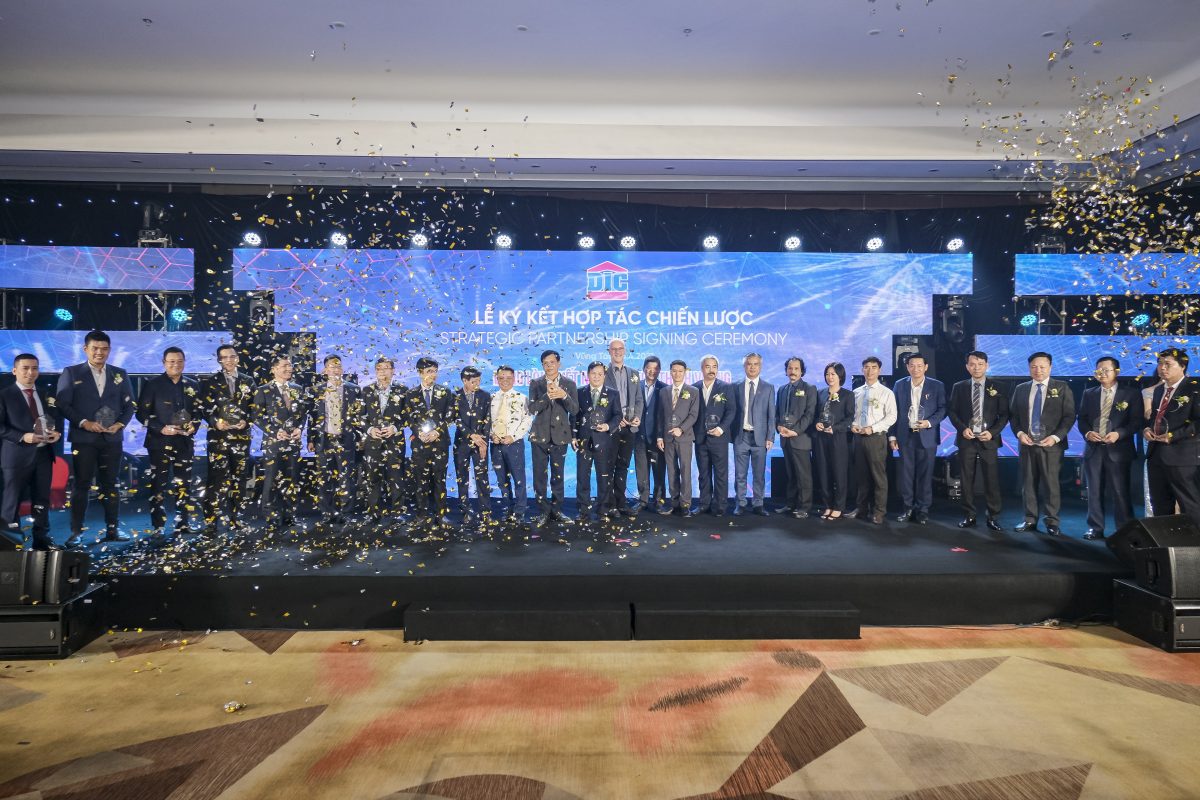 On the afternoon of April 16, 2021 in Vung Tau city, DIC Group (HoSE: DIG) held the signing ceremony of comprehensive strategic cooperation with 20 partners in 5 fields including: Banking; Design consultancy; Construction materials and equipment; Construction and construction, brand management 
Cooperation signing ceremony between DDC and DIC .Corporation
DIC Group held the signing ceremony of comprehensive strategic cooperation with 20 partners in 5 fields including: Banking; Design consultancy; Construction materials and equipment; Construction and construction, brand management.
Representative of Dai Dung Steel Structure Trading Construction Mechanical Joint Stock Company (DDC) – Mr. Trinh Tien Dung, Chairman and General Director shared: "We were told about the idea and plan to use the plan. pre-engineered pre-engineered steel frames for projects, helping to speed up the design, procurement, construction and reduce costs.For Dai Dung Company, we highly appreciate this idea and intention, At the same time, we realize that the cooperation and combination of strengths between Dai Dung Company and DIC Group in the implementation of projects will bring many benefits to both parties."
DIC with the goal of Top 5 real estate enterprises in Vietnam in the period of 2021 – 2025.
DIC expands its partner network in 5 majors:
According to the investment capital plan for the period of 2021 – 2025, the disbursed investment capital of DIC Group is about VND 10,000 billion/year. In particular, mainly focused on implementing a series of key real estate projects. In order to meet the project progress and investment efficiency, DIC Group officially "shake hands" with comprehensive and extensive cooperation with 20 strategic partners in 5 areas including: Banking; Design consultancy; Construction materials and equipment; Construction and construction, brand management.
DIC promotes resources to realize the goal of 2021-2025
With the signed agreement, DIC Group and 20 strategic partners will promote cooperation based on each party's strengths, improve capacity and operational efficiency, become reliable partners to build strategic sustainable development strategy. This event also demonstrates the determination of DIC Group in realizing and pursuing the goal of becoming the Top 5 largest real estate enterprises in Vietnam in the period of 2021 – 2025.
Icons played during the signing ceremony
Speech from the Chairman of the Board of Directors of DIC Group
Speaking at the signing ceremony, Mr. Nguyen Thien Tuan, Chairman of the Board of Directors of DIC Group affirmed: "With more than 30 years of operation in the field of real estate investment and development, the signing with battlefield partners A long-term strategy is a necessary job that benefits both sides in the process of administrative advocacy for business development. Thereby mutually complementing each other, creating the strength of the business community in particular and the country of Vietnam in general. These are capable and experienced contractors and businesses chosen by DIC to send gold to cooperate in implementing DIC Group's projects."
The connection with financial institutions and signals will create for DIC Group a solid financial launching pad, mobilizing capital to focus on developing and exploiting large urban projects.
Statement from Sacombank Representative
Mr. Dao Nguyen Vu – Deputy General Director of Sacombank emphasized: "I hope this strategic cooperation will help both businesses take advantage of and exploit their strengths, further expand their scale, develop develop a system of products and services that meet user needs, increase trust and customer experience, and strengthen the position of both sides".
Accordingly, Sacombank will provide corporate financial services such as bank guarantees, domestic and international payment services, cash flow management, foreign exchange services, etc. to meet investment and business needs. business of DIC Group and related ecosystem.
Speech from Representative of VNCC
Sharing at the signing ceremony, the representative of the field of design consultancy cooperation, Mr. Tran Duc Toan – General Director of Vietnam Construction Consulting Corporation – VNCC Joint Stock Company expected:


"We believe that with DIC Group's big vision, leading strategy, ahead of its time, we can all work together to bring to the market quality real estate products with outstanding brands, creating works of the future".
In parallel with the cooperation with big brands in the field of construction materials and equipment such as: Hoa Phat; GELEX; Kova; Viglacera, the prestige of DIC Group is also reflected in its sustainable works, application of modern and advanced technical technologies in construction and installation.

Resources by MKT DDC