Currently, high-tech production factories and livestock farms have become a development trend. In particular, building with recycled, environmentally friendly and green materials is being encouraged. Smart infrastructure models with environmental protection and treatment solutions are being widely applied.
1. STRONGLY DEVELOPING AGRICULTURE INFRASTRUCTURE 2023
Construction by 2023 is to focus on renovating and improving the model of farms and processing factories for agricultural products and food. Agricultural infrastructure is being facilitated by important agricultural local governments.
1.1 FARM MODEL
Applying the cold barn breeding model helps limit flu epidemics and does not spread odors.
Adopt automatic management system of temperature, light, feed, water, harvest.
Although the initial investment cost is high, the operating cost is low compared to the open barn model.
Applying cooling system in barns and waste treatment systems.
Optimizing effort and significant cleaning costs, the farm is always in a clean, green state. Smartly designed infrastructure ensures absolute safety of disease.
The process of a closed farm model and the application of scientific and technological advances to animal husbandry.
Expand and combine the model of self-production of breeding stock to raise pigs for meat, self-prevention and treatment of diseases.
Using industrial food and using probiotics and adding green vegetables.
1.2 PRODUCTION FACTORY MODEL:
Requirements on factories of production facilities are already specified in Section II of Circular 61/2011/TT-BNNPTNT. Specifically, the National Technical Regulation in the field of animal feed promulgated by the Ministry of Agriculture and Rural Development. In particular, the materials and structure of the workshop must ensure safety during construction and food safety and hygiene:
Walls, ceilings, floors, floors and partitions must be made of materials that are easy to clean.
Construction floors must be easy to drain.
Ceilings and fixtures above the ceiling should be designed to reduce dust and water condensation.
Windows and doors are airy, easy to clean and limit dust accumulation.
2. DDC FACTORY PRODUCTION – LIVESTOCK PROJECT:
Mechanical fabrication products of steel structures for workshops/prefabricated buildings DDC meets all those criteria. Some typical projects of DDC: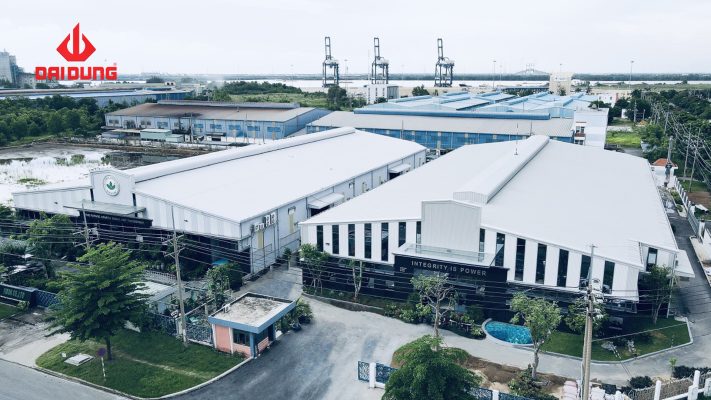 2.4 Sóc Trăng Food Storage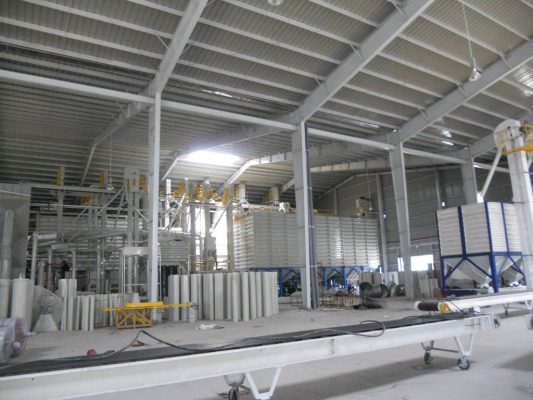 Resources by MKT DDC.