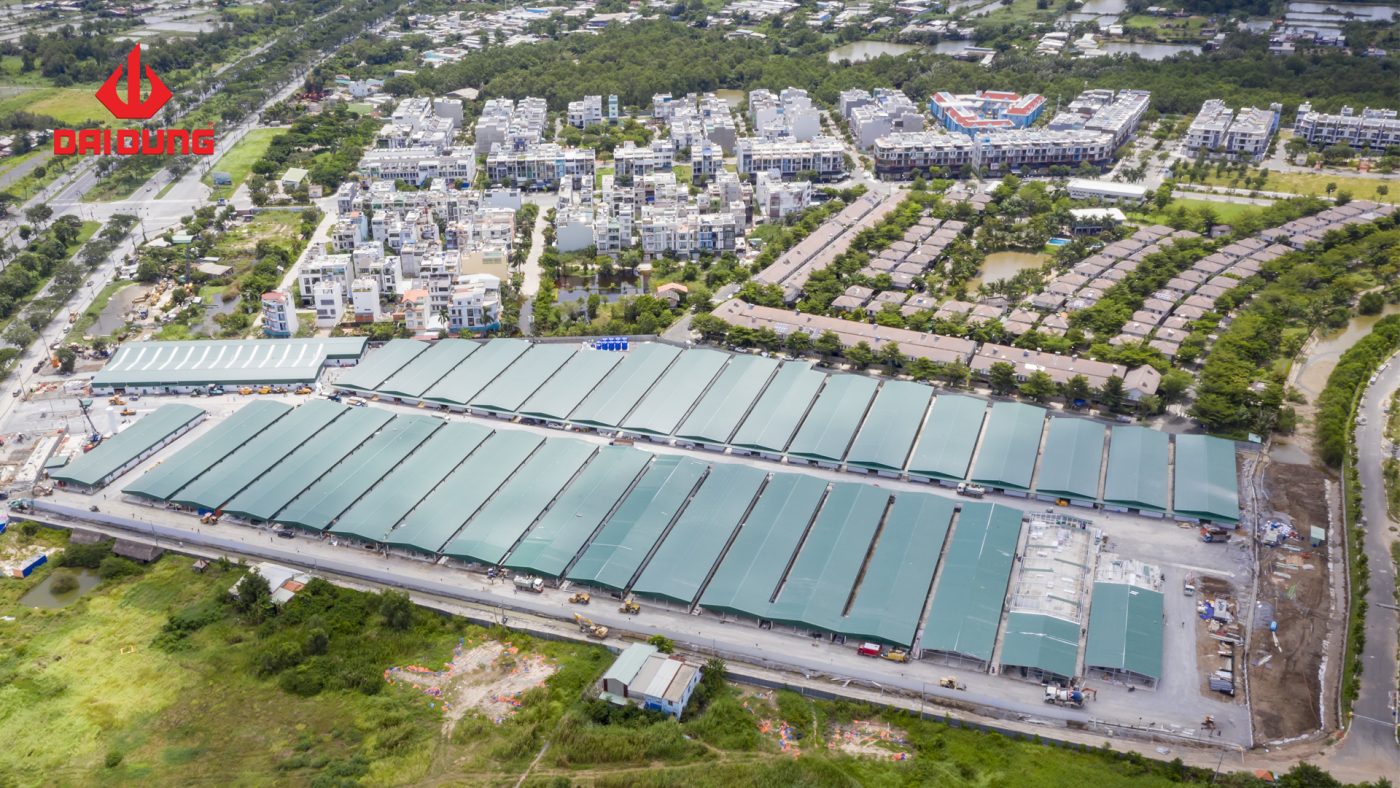 Binh Chanh Hospital is being constructed by the method of rolling, handing over to it. Information about the plan to build a steel structure for a field hospital in Binh Hung commune, Binh Chanh district with a scale of 3,300 beds
1. Some information about construction progress of Binh Chanh field hospital
As of July 23, Binh Chanh field hospital has completed 50% of zone 1 with modules 1,2,3. It is expected that on August 30, 1,200 beds will be handed over. Zone 2 has completed leveling and concrete pouring for the foundation, expected to hand over the remaining 2,300 beds on September 30.
Currently, there are about 1,000 engineers and workers who are urgently constructing 24/24h to keep up with the schedule. After 25 days of rapid construction, DDC completed and handed over to the city 20 houses out of a total of 34 makeshift houses, serving the treatment of COVID patients received by the Viet Duc Hospital in Ho Chi Minh City.
Binh Chanh field hospital was built on an area of ​​5.6ha. Previously, DDC completed the field hospital No. 15 Dao Tri, District 7 and handed it over to put into operation with a scale of nearly 600 beds. Currently, in addition to 15 field hospitals that have been receiving and treating Covid-19 patients with nearly 30,000 beds, Ho Chi Minh City is still operating 14 isolation areas with more than 16,000 beds.
Ho Chi Minh City is taking urgent and drastic measures to prevent the spread of the Covid-19 epidemic, one of which is the peak campaign of disinfecting and disinfecting throughout the city.
2. About DDC construction unit
DDC is a unit of consulting, design, construction and erection of pre-engineered steel buildings and steel structures with over 25 years of experience.
As a mechanical exporter of steel structure fabrication more than 50 countries and regions.
DDC is committed to bringing dedicated, reputable and quality products to investors.
Resources by MKT DDC